Forget bland recipes: With a few simple ingredients, you can whip up these delicious and flavorful Indian recipes. Many health-minded food bloggers are proving just how easy it is. Below are our favorite healthy Indian recipes. They're all high in flavor, anti-inflammatory, and packed with nutritious ingredients. Lunch…Dinner? Done!
What's the best Indian meal for meal preps?
Meal prepping in the Indian kitchen isn't common but it's starting to gain momentum! Choosing the right Indian meal to prepare for the week can be tricky but we're here to help. If you are new to meal prepping make sure to check out our other post on the benefits of meal prepping on how to get started: Meal Prep - A Healthy Eating Strategy. 
The trick to Indian meal prepping is picking the meals that will taste the best even after storing them in the refrigerator for a week. Here our some of our favorites: 
Chicken Curry

Kashmiri Bhindi (Okra)

Kasuri Methi Aloo (Potatoes)
The reason these meals are an ideal choice is because the ingredients stay fresh for a very long time and don't get soggy or dry after refrigeration. 
Are Indian meal preps considered healthy?
Depending on the type of Indian meal, you may notice some differences in "healthiness". For example, Naan may be surprisingly unhealthy considering the amount of white-flour, sugar and oil it contains - keep in mind "healthy" is subjective and we must keep an open mind on what is actually healthy for each one of our unique bodily characteristics. However, the beautiful thing about Indian recipes is the abundant amount of disease fighting and immune strengthening spices it contains. When it comes to healthy, we like to focus on meals that contain high amounts of antioxidants and help reduce the most amount of unwanted chronic inflammation. This of course can vary among different people but that's why a big part of what we work on at Cura is to help identify which meals fit best for you. 
Here are some of our favorite recipes that contain high amounts of nutritious ingredients: 
6 to 8 chicken drumsticks, with skin removed
2 medium finely chopped onions
4 garlic cloves chopped or 1/2 tsp garlic powder
2 inch fresh ginger chopped or 1/2 tsp ginger powder
1/2 tsp turmeric
1/4 tsp cayenne pepper
2 tsp cumin powder
1 tsp garam masala
2 tsp coriander powder
1/2 tsp black pepper
2 Tbsp paprika
1/2 tsp salt
1 Tbsp tomato paste
2 Tbsp coriander leaves finely chopped
2 Tbsp oil
Mix the spices in a separate bowl.
Wash the chicken legs.
 With a paper towel, pull the skin out towards the end of the leg.
 Cut a few slits into the chicken.
 Fry onions in oil until translucent in a covered pot.
 When onions are translucent, add chicken and sauté for 3 mins. 
 Add all spices and fry for 1 min. 
Adjust the temperature to Low heat or until the chicken is simmering(just below boiling)
Add 1/2 cup water and mix in 1 Tbsp tomato paste.
 Let it simmer and cover it for 30 minutes.
 Garnish with chopped coriander leaves.
 Let simmer for 1 minute and serve.
 1 lb of Bhindi (Okra).
 Chopped 1/2 inch length 1 medium onion. 
 Chopped 1/2 tsp turmeric powder.
 1/4 tsp cayenne powder. 
 2 tsp fennel powder. 
 1/2 tsp salt. 
 2 Tbsp oil.
 1/4 cup water.
In a separate bowl mix all the spices.
Lightly fry onions in oil till translucent at medium heat in a pan
 Add all spices to the onions.
 Fry for 30 seconds.
 Add bhindi and water to the pan.
 Cover and let it simmer for 10 minutes. 
 Enjoy some healthy Indian Okra :)
Kasuri Methi Aloo (potatoes) 
 4 Medium Idaho potatoes chopped in 1/2 inch cubes with skin. 
 2 Tbsp Kasuri Methi (MDH Peacock brand). 
 1/2 tsp turmeric. 
 1 Tbsp paprika. 
 1/4 tsp cayenne pepper. 
 1/4 tsp pepper. 
 1/2 tsp salt.
 2 Tbsp oil.
 Fry chopped potatoes to oil at medium heat in a pot.
 Lightly coat with oil for 1 min. 
 Mix all spices in a seperate bowl except the Kasuri Methi.
 Add all spices except Methi to the potatoes in the pan.
 Add 3/4 cup water and cover the pot.
 Let simmer for 15 min. 
 Mix potatoes and add Kasuri Methi. 
 Cover for 5 min. 
 Serve.
Get this weeks bonus recipe: Kheema Mattar 
(ground meat/beyond meat and peas)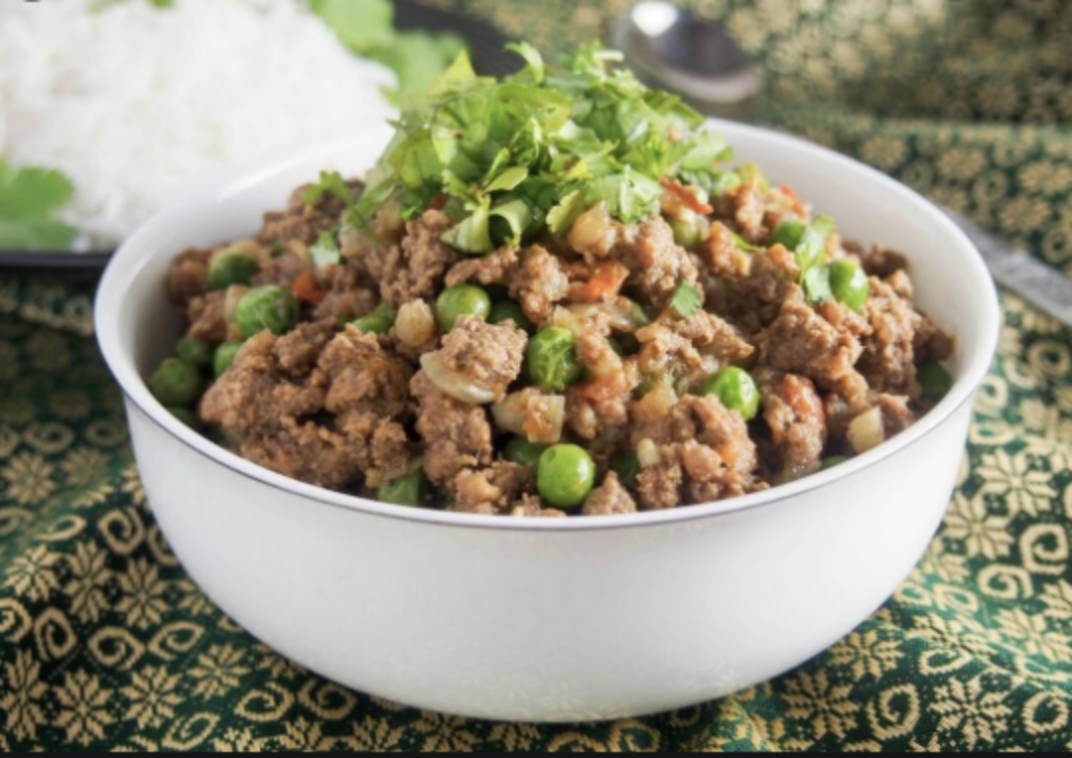 Get this weeks bonus recipe
Be one of the first to request and we will e-mail you the recipe!
We respect your privacy...